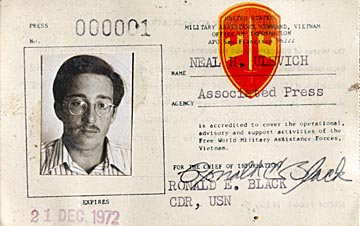 This is what press cards looked like in the Vietnam war. ABOVE The press card issued by MACV (Military Assistance Command Vietnam), the U.S. side. BELOW The press card issued by the Republic of Vietnam government.
Return to the Vietnam page &nbsp | &nbsp Return to Ulevich home page
Images &COPY Neal Ulevich 2001. &nbsp All rights reserved.