Illustrated News from Home
An occasionally updated journal for Ulevich friends and family
---


Twins! Hayley and Jake, Ben and Ellie born September 24, 2021.


---


Jake and Hayley visiting the USS Enterprise in New York harbor, August, 2019 - before the Great Coronavirus Lockdown.


---


Everett and Grandpa built this working model
of a jet engine, only Grandpa isn't very good at it so it
didn't work so hot, January, 2020.


---


Grandkids "fly in" to pick up pumpkins and squash from the NU garden, October 2018.


---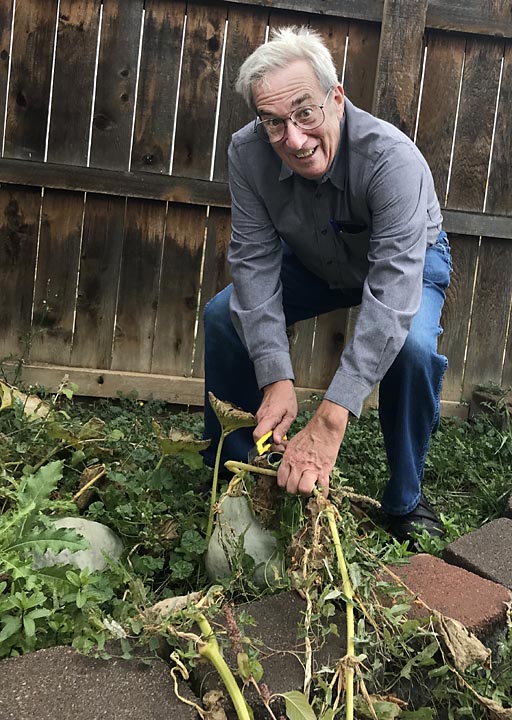 NU harvests a Blue Hubbard Squash from his garden, October 2017.


---


NU and grandkids with pumpkins they claimed from Grandpa's garden, October 2017.


---


Everett with a solar powered flashlight keyright he built with Grandpa. It was Everett's first foray into soldering. June, 2017.


---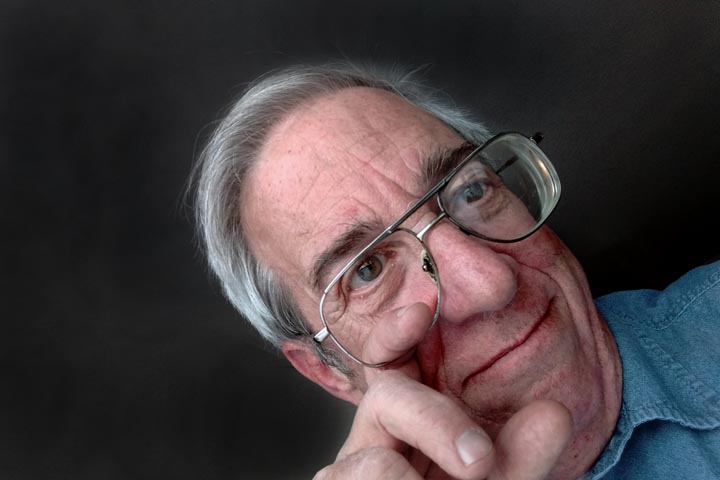 One down, one to go: Right eye cataract is history. Left eye coming up. December, 2016.


---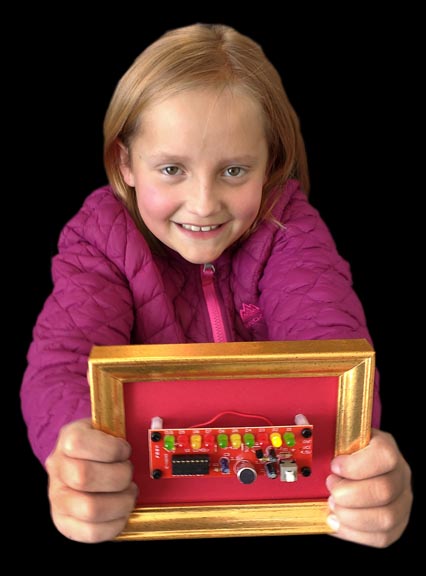 Gracie shows off an electronic gizmo she made from a kit with help from NU. Sounds make the colored lights dance. November 19, 2016.


---


Nuclear Selfie - Dan Ulevich, my nephew, and his bride Jaime with the rather unusual wedding present from NU: A recording geiger counter. Dan is a nuclear engineer. October, 2016.


---


The 2016 backyard harvest: Hubbard squash (one weighing 28 pounds), pumpkins, Zuccas and tomatoes. Posing for this vegetable selfie are grandkids Gracie and Everett, daughter Sarah, and NU. October 9, 2016.


---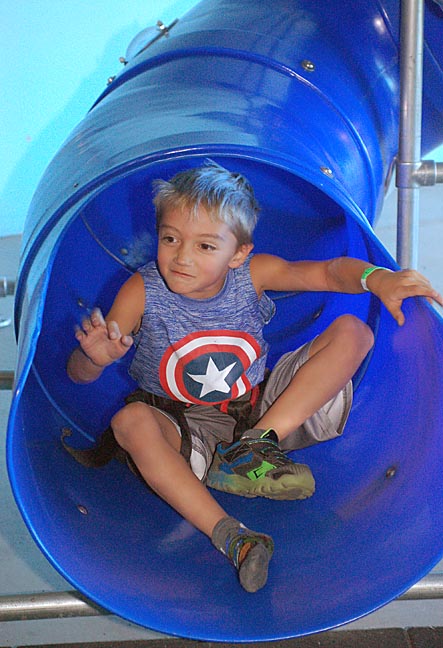 A sixth birthday party, somewhat delayed, for grandson Everett. Here he emerges from a slide at a Thornton fun park. September 25, 2016.


---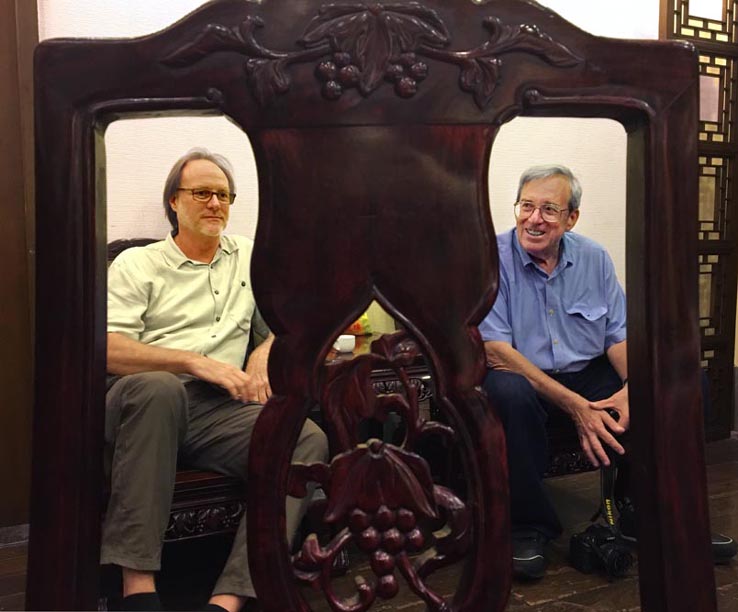 Back in Shanghai, NU seen through a classic Chinese chair. He was part of a team photographing the world's most
populous city. At left is photograher Mike Nelson. Photo by another team member, Ringo Chiu. September, 2016.


---


Grandson Everett graduates kindergarten. And (like all the other kids) has a problem keeping mortarboard in place. May 25, 2016.


---

Gracie on zipline, at her 10th birthday party. March 6, 2016.
---

Gracie and her 'cricket' - She built this electronic chirper with a little help from Grandpa. December 20, 2015.
---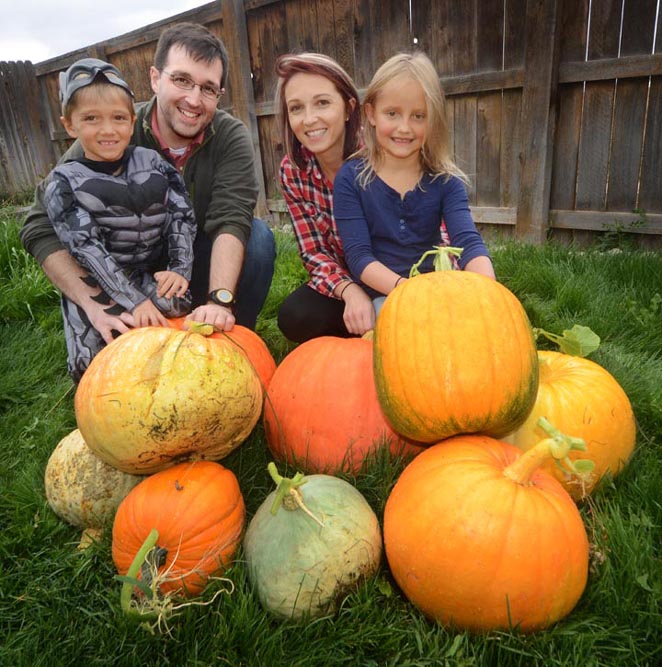 Jake and Sarah - and grandkids Everett and Gracie - with pumpkins and squash harvested from Farmer U's backyard, October 4, 2015.
---

Gracie checks out the cactii while shopping for seeds. March 30, 2015.
---

It's Pi Day, and Pi Lingual Neal joins two Pie Ladies for a snapshot at Granny Scott's Pie Shop. March 14, 2015.
---

What YOU lookin' at?...Spider-Man, aka Everett, claims a pumpkin from Grandpa's garden. October 19, 2014
---

Chris with a nearly finished two storey bed - complete with slide - he built for a client. August 6, 2014
---

Gracie, Everett and the Space Alien Cybercycle (built by Grandpa). August 3, 2014
---

Gracie with cowgirls at the Adams County Fair. August 3, 2014.
---

Chris, Everett and Sarah at Gracie's eighth birthday party. March 2, 2014.
---

Gracie dances in "Beauty and the Beat" at the Adams City High School. December 15, 2013.
---

Jake walks to work through Central Park after a NYC snow. December 14, 2013.
---

NU and Jake visited the fabled Cambodian temples of Angkor Wat - then traveled to Hanoi and Saigon - in April, 2010.
---
Return to Ulevich Home Page